Press Release For Immediate Distribution
AdMazad, the leading OOH aggregator and analytics platform, is pleased to announce its partnership with RiseUp for their 2019 summit. Composed of panels, workshops and talks, the summit's theme this year is Journey to Growth.
Since 2015, AdMazad has delivered data driven and hassle-free experiences through its proprietary Out of Home (OOH) planning and measurement systems. A large part of this work has been to drive innovation, increase accessibility and support industry growth across multiple sectors. For AdMazad, a partnership with RiseUp is exciting as the summit provides unrivalled access to Egypt's upcoming technology and business pioneers.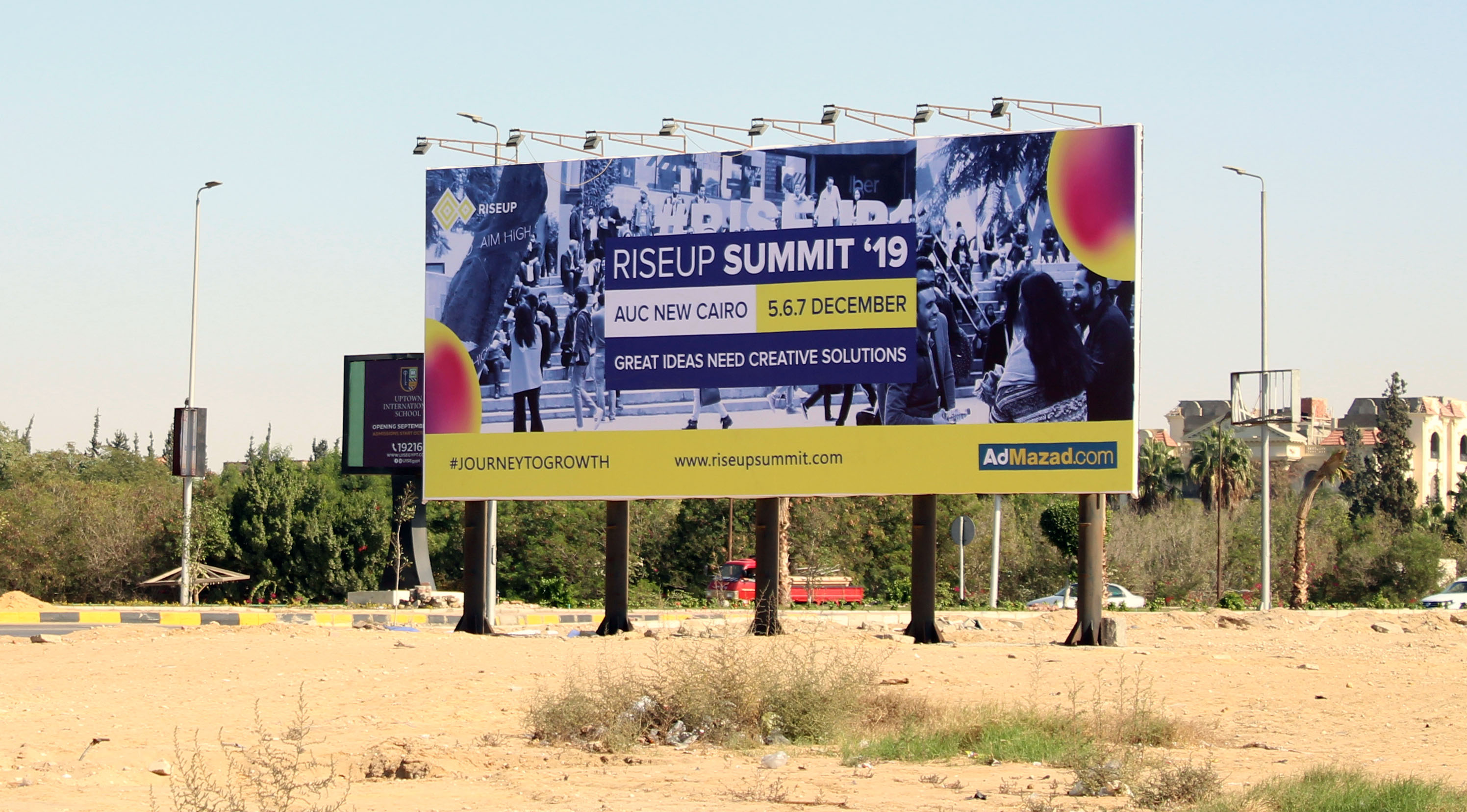 As a firm believer in data driven growth, AdMazad believes RiseUp provides valuable networking and educational opportunities in the entrepreneurship ecosystem. Ahead of this year's summit, AdMazad has advised RiseUp to implement the targeted use of OOH in their preparations. This strategy offers new capabilities and greater effectiveness in getting the summit's message across a mass market. The integration of OOH into RiseUp's plans has therefore been a major focus of the partnership and one that AdMazad is excited about.
In addition to consulting on RiseUp's advertising, AdMazad will announce its new A20 planning process—that allows advertisers to plan, optimize and assess their OOH advertising expenditure so that they can stay ahead of the curve. The summit will be an opportune time to discuss the technology, as well as the other trends and innovations shaping the industry with some of the MENA region's most influential entrepreneurs. 
About Riseup Summit
RiseUp Summit is the MENA region's largest entrepreneurial event of the year, taking place in Cairo, Egypt. Since 2013, RiseUp Summit has brought together some of world's most influential business thinkers, creators, investors, researchers, and journalists, who come together to exchange ideas and resources through a wide range of talks, panels, workshops, clinics, and networking opportunities geared towards developing the regional ecosystem. #RiseUpSummit19 will be the biggest Summit to date, with over 250 speakers from all over the world coming together to discuss the MENA ecosystem's #JourneyToGrowth. 
About AdMazad
AdMazad is an Out of Home (OOH) advertising aggregator and analytics platform, focusing on delivering data driven and hassle-free advertising experiences through its proprietary media planning, management and measurement systems. It also runs AdMazad.com, MENA's first OOH Search engine. AdMazad's vision is to place power in the hands of advertisers and agencies while offering small businesses access to new marketing and advertising solutions.