The question we often hear from people bemused by the empty billboards on 6th October Bridge, is Did Digital Kill Outdoors? True, the empty billboards are a rare sight in the past couple of years where the outdoors market saw exponential growth with billboards springing up endlessly, deck over deck.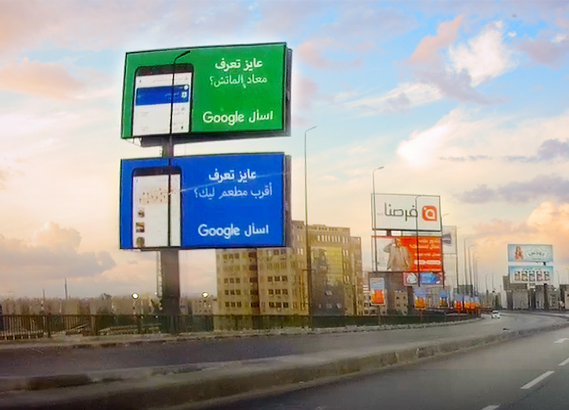 It might be easy to conclude that Outdoors is meeting the same fate of other traditional media. Just the latest victim, the last to stand tall in front of the digital tide. But hold on. How would you then explain that Google, the master of the digital universe itself, goes full force with a traditional offline media blitz - outdoors included? Well Google wants you to spend more time on its platforms (and hence sell more ads) and to do so it is reaching out to you on your daily commute.
Digital Didn't Kill Outdoor, quite the opposite, in Egypt, and worldwide, the tech and startup industries are the fastest growing sectors and are among  the top 5 sectors in Outdoors buying and there is no stopping them. Just keep an eye out for them on your travels and commutes, the Cairo skyline is full of  Vezeeta, Wuzzuf, Souq, Instashop, Uber, Google, and tens of local startups.
In a country like Egypt, one plagued by traffic jams and highways, outdoors get a high share of eyeballs and top of mind. Outdoors are in your face and harder to skip, switch or block. Consider this:
a premium location on 6th October Bridge
gets an average of 5 million impressions per month (and before you start calculating, we will be comparing off and online CPM's in our next blog post)
So to summarize, the slowdown we are seeing is just symptomatic of the economy at large. The
outdoors market's largest advertiser
—the real estate developers—are cutting back their budgets across the board, a direct result of miscalculated clutter after the post-devaluation boom. However, on the upside, we are seeing sectors come back strong after a multi-year silence - Tech, FMCG's, F&Bs, Banks & automotive to name a few.
In our opinion, there are 3 main challenges facing the market:


A restructuring of the offer: We are already seeing AdSpace owners packaging & bundling of consecutive locations which is giving more space for advertisers to break the clutter. On the other, hand we at AdMazad have catalogued the market inventory and provided a variety of tools that simplify the booking and campaign management processes.


Lack of Data: Companies are looking for numbers to help them optimize their advertising budgets. At AdMazad, we have been supporting our clients through data driven bookings, where billboards are evaluated based on their AdScore: an aggregate score of impressions, visibility & viewing time, thus injecting performance tracking in the market.


The lack of creative challenge: Outdoors are a great medium for show stopping ideas. Unfortunately, we are seeing today subpar advertisements which fail to make use of a 400+ sqm canvas that the new mega billboards offer. Advertisers should push their agencies to produce better work - or vice versa!


In a nutshell, outdoors are not dead, nor dying any time soon. The industry is just going through a needed surgical intervention, which can only drive healthier growth & better AdSpace for advertisers in the future.